At least ten "pathfinder" sets of High Court proceedings relating to the destruction caused by the mica scandal in Donegal will be issued by Coleman Legal over the coming weeks, with potentially thousands of more cases to follow later.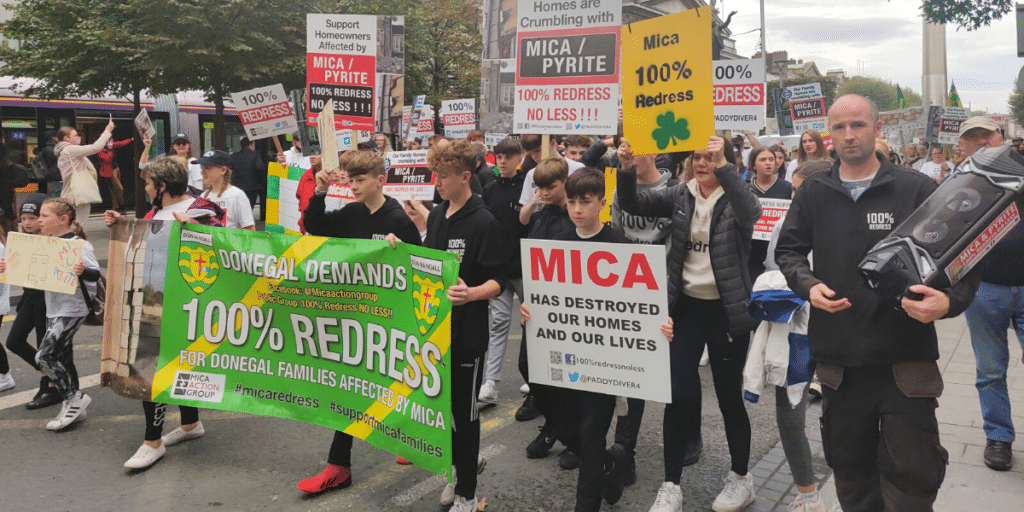 MICA Defective Blocks Protest in Dublin
The lawsuits come after a Government working group issued a report which did not recommend the full redress from public funds sought by campaigners for the affected property owners in Donegal, Clare, Sligo, and Mayo. The report, which estimated that the costs of remediation could reach €3.2 billion, suggested that 100% grants could not be provided for remediation works that required full demolition. However, engineers are wary of approving partial remediation works falling short of demolition due to concerns that damage may recur in the future. A large protest in favour of full redress took place in Dublin last week.
The lawsuits for MICA Scandal in Donegal—which may be entered into the High Court's fast-track commercial list in the weeks to come—are being supported by members of 100pc Redress, a campaign group that is dissatisfied with the draft report's recommendations. Shaun Hegarty, a member of the group, said that it decided to go ahead with legal cases on foot of concerns that thousands of property owners will not qualify for the grant scheme or will receive inadequate compensation.
According to Coleman Legal, four of the cases involve sums of approximately €2.5 million. The ten cases encompass private homes, rental properties, commercial buildings, and farm buildings. The defendants will include block suppliers and quarry operators as well as Donegal County Council and other State bodies. The plaintiffs' legal costs are being privately funded by business interests in Donegal.
Dave Coleman, the managing partner of Coleman Legal, said that the firm had already received several hundred applications to join in the litigation. He said that it was expected that the number of participants would reach the thousands, given the ease of signing up and the fact that those doing so are not being asked to contribute to the costs of the litigation. 
Each plaintiff's case will have to be filed individually as Irish law does not permit class-action lawsuits. Mr. Coleman said that he was satisfied that the cases would comply with laws restricting third-party litigation funding, noting that the funding is being provided on a not-for-profit basis.