Spinal Injury Claim Solicitors Nationwide
If you or a member of your family have suffered a back or spinal injury, it can be devastatingly life-changing. The injury can increase healthcare costs, require new home adaptions, and possibly cause the inability to work.
How can we help?
To discuss your case in detail, contact us today or request a callback from our experienced team.
Free Phone: 1800 844 104
Email: info@colemanlegal.ie
What is Traumatic Spinal Injury?
Fractures to one or more vertebrae or an injury to the spinal cord can lead to permanent disability and chronic pain. Victims of traumatic spinal injuries also face long-term complex care needs.
Causes of a spinal injury
Each year, approximately 2,500* people are injured or diagnosed with a traumatic spinal injury caused by severe road traffic accidents, falls, accidents in the workplace, and also while engaging in sports or other activities.
Effects of a spinal injury
A back or spinal injury can be devastating and life-changing, resulting in rising healthcare costs, possible requirements for home adaptions, and possibly the inability to work. Furthermore, the difficult recovery process can be even more stressful for you and your loved ones.
How Coleman Legal can assist you in obtaining compensation
The highly experienced team at Coleman Legal will discuss your case with you and advise whether you may have a potential spinal injury claim against another party. If you have a potential spinal injury claim, we will, on your instructions:
Instruct technical experts as necessary to thoroughly investigate your case.
Obtain your medical records.
Prepare and submit an application to the Injuries Board on your behalf.
Prepare and issue court proceedings if the case is not resolved through the Injuries Board.
Manage your case through the litigation process, supporting you throughout.
To speak with one of our spinal injury team, call (Free Phone) 1800 844 104 or complete our online enquiry form.
Spinal Injury Practice Areas
What are the different types of spinal injury?
Spinal injuries can be described as complete or incomplete.
Complete Spinal Injury
Complete spinal cord injuries are rare, but they are more serious. A Complete injury results in total Paralysis below the primary level of the injury. Complete spinal cord injuries fall into four categories:
Cervical Vertebrae (7): C1 – C7 Spinal Injury – Head, hands, shoulder, arms, neck, and diaphragm.
Thoracic Vertebrae(12): T1 – T12 Spinal Injury – Chest muscles, abdomen, and muscles in the back.
Lumbar Vertebrae (5): L1 – L5 Spinal Injury – Hip, thigh, feet, and knee muscles.
Sacrum (5): S1 – S5 Spinal Injury – Bladder and bowel.
Incomplete Spinal Injury
More than 60% of all spinal cord injuries are incomplete. Medical experts are trained to respond appropriately to this damage to avoid further complications. Incomplete spinal injuries are classified into three categories:
Anterior Cord Syndrome
Central Cord Syndrome
Brown-Sequard Syndrome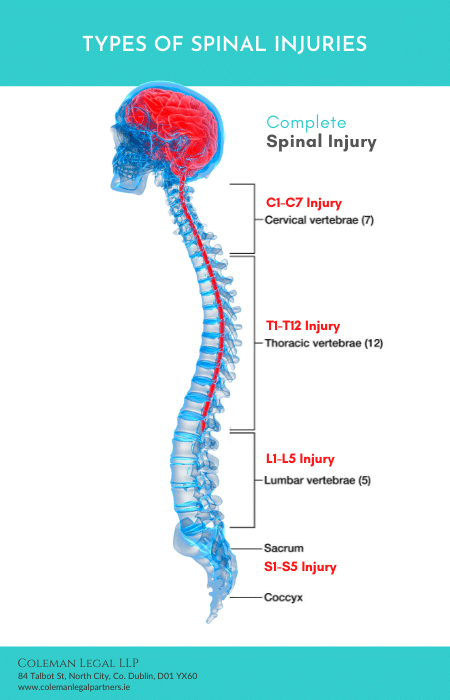 Frequently Asked Questions
What are the usual causes of spinal injuries?
There are several reasons for Spinal Injuries. These include:
Falling from a height
Violent assaults or stabbings
Negligent spinal surgery
Sporting accidents
Failure or delay in diagnosing Cauda Equina Syndrome
Frequently Asked Questions
Do I have grounds for a spinal injury claim?
There are several grounds on which a Spinal Injury claim can be made
1. You were owed a duty of care by another party (for example, as a road-user, employee, patient, or visitor to a premises)
2. That duty of care was breached, i.e., through negligence
3. You have suffered an injury as a result of that breach of duty/ negligence
To speak with one of our spinal injury team, call (Free Phone) 1800 844 104 or complete our online enquiry form.
Frequently Asked Questions
Statute of limitations for a spinal injury claim
Generally, the time limit to bring legal proceedings for a spinal injury claim is two years from the date you first become aware you were injured due to an accident/negligent act done to you.
There are, however, exceptions to the application for a spinal injury claim. If someone is under 18, the two-year period does not commence until their 18th birthday.
Also, in cases where a person does not know, they have been injured at first, and they have taken all steps to find out if they are injured, then the two-year period may not begin until they have established that they are injured in some way.
Spinal Injury Support Group
SII is the only support and service agency for people who have sustained spinal cord injuries and their families. They provide a nationwide person-centered service to assist people in engaging fully in society following their injury.
Our dedicated team has extensive experience in spinal injury claims and we are ready to advise and assist you with a claim. Call us at 1800 844 104 or info@colemanlegal.ie to speak with a member of our spinal injury claim Team
*In contentious business, a solicitor may not calculate fees or other charges as a percentage or proportion of any award or settlement. This statement is made in compliance with RE.8 of SI 518 of 2002.