Employees File Lawsuit Against Facebook and It's Service Providers
Facebook operates in several parts of the world including but not limited to Europe, Greece, Texas and Germany. It uses service providers such as CPL Resources and Accenture that provides content moderation services. Content moderators employed by these service providers are suing both the service provider and Facebook for damages and personal injuries. They claimed that they acquired PTSD, depression and anxiety after seeing the distressing content.
Interviews with employees revealed moderators review content illustrating animal cruelty, beheading, bestiality, drug abuse, extreme violence, gambling,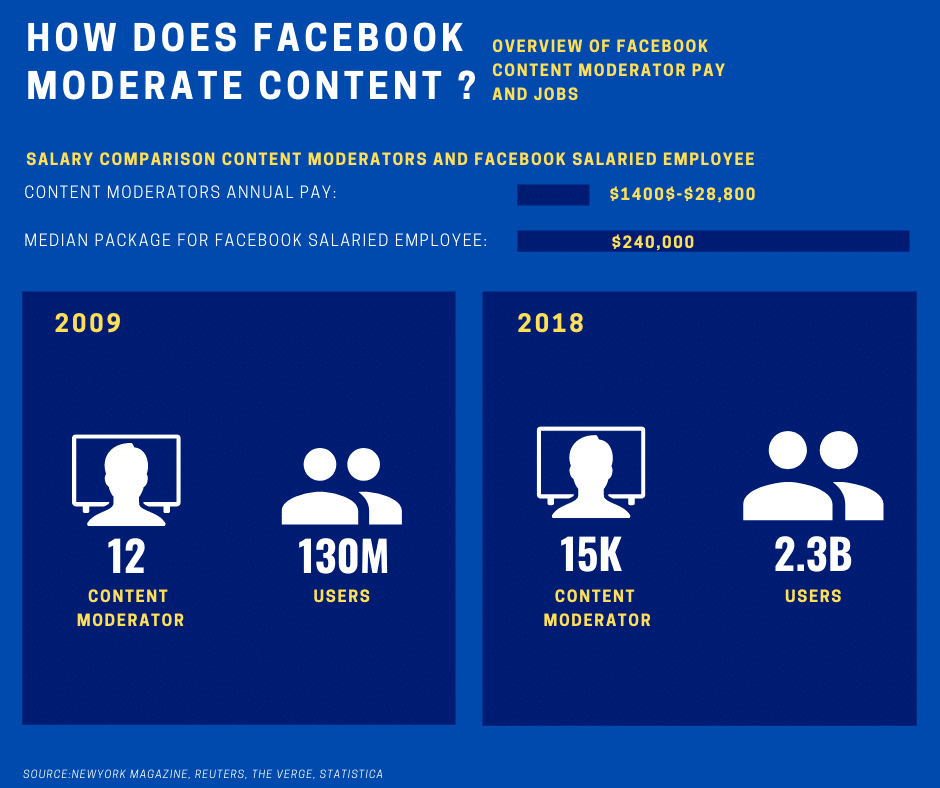 pornography, sexual assault and terrorism. One employee named Chris Gray who started working as a content moderator in July 2017 said he witnessed incidents where a man uploaded a video of himself shooting an elderly stranger on the street and shortly after, saw a live-streamed incident of a Thai man murdering his daughter. He claimed this caused him to suffer from anxiety and PTSD. Another employee by the name of Sean Burke said: "My first day on the job, I witnessed someone being beaten to death with a plank of wood with nails in it and repeatedly stabbed", and thereafter mentioned he witnessed content portraying child sexual abuse and bestiality which caused psychological trauma and PTSD.
Moderators sought damages for personal injuries sparked by the distressing content during their employment with CPL Resources. Under section 17 of the Personal Injuries Assessment Board Act 2003, "if a plaintiff's injury consists of psychological damage that would be difficult to assess by the board, it can permit for the claim to be pursued through the courts." Diane Treanor a solicitor with Coleman Legal based in Dublin and who is representing the moderators said: "The Personal Injuries Assessment Board has commenced authorising the issuing of High Court proceedings against Facebook."
The work schedule is tight and limits social interaction between staff. Although moderators are part of teams in open-plan offices, the virtual space breeds feelings of isolation among employees. This amplifies the negative impact of the content on workers. Moderators receive random tickets in the form of texts, images or videos they react on. The process constantly repeats, generating new tickets for employees while being monitored by management. One employee said, "There are grades of decision making, and if you get it wrong by just a little bit it still counts as a mistake, and that counts against your quality score, and you might be fired. You're not just looking at it objectively; "The Personal Injuries Assessment Board has commenced authorising the issuing of High Court proceedings against Facebook."
Facebook provided a statement saying, "We recognise this review work can be difficult, and we work closely with our partners to ensure that the people who do this work are supported. We require everyone who reviews content for Facebook go through an in-depth, multi-week training program on our Community Standards and have access to extensive psychological support to ensure their wellbeing. This includes 24/7, on-site support with trained practitioners, an on-call service, and access to private healthcare from the first day of employment. We are also employing technical solutions to limit their exposure to graphic material as much as possible. This is an important issue, and we are committed to getting this right." However, several employees claim the mental health resources and training provided was inadequate.
Frequently Asked Questions
If I don't have any resources to fund my case, how can I take a claim?
The team at Coleman Legal are fully supportive in every way of your case. We successfully represent many hundreds of clients, moderators and others, all of whom have been able to bring a case without the worry and stress of financing it. We can help you.
We are aware that a similar case in the US was recently settled with a positive outcome for the content moderators. If you case is successful in court, or settled out of court, you will then have to pay reasonable  legal fees.
It is important to note that no solicitor's fee may be calculated as a percentage of any award or settlement you receive. Also, if a litigant loses their case they may be liable for the other side's legal defence costs, including medical fees or other expert reports, etc. We will advise you in advance should this become a likelihood.
My employer warned me in advance that I might have to review disturbing content, and that it might lead to PTSD. Can I still make a claim?
The Health, Safety and Welfare Act at Work 2005 requires the employer to provide adequate training and support to ensure well-being for the employee, regardless of whether they were warned about the nature of their jobs or not.
Asking you to sign a waiver does not relieve an employer of their obligations and responsibility. If you have suffered psychological trauma as a content moderator and have concerns regarding NDAs, other contracts and acceptance/settling from being partially warned, it is advisable to speak to a solicitor.
Do I have the same rights and safeguards being a third-party employee?
An employer is legally required to provide yo with a safe place of work and a safe system of work. Historically agency workers were treated in an entirely different manner to those workers who were hired directly into the workforce. Whilst the employment agency is the employer, the company is also respomsoble for breaches of the Safety, Health and Welfare at Work Act, 2005.
Your right to being protected under Health and Safety Regulations are the responsibility of both the company company where you are doing the temporary work and the agency.
I have left my job, and didn't realise at the time that the content I reviewed had caused psychological injuries. Can I take a case against my employer now?
After you become aware of the harm you have suffered, you must make a claim for compensation within two years.
It is important to seek legal advice as soon as possible, to ensure your claim doesn't pass this statute of limitations.
I work as a contractor, employed by an agency, not by the company whose content I was moderating. Can I still make a claim?
Whilst the employment agency is the employer, the company which controls your work and working environment  is also responsible for breaches of the Safety, Health and Welfare at Work Act, 2005.
Your rights under Health and Safety Regulations are the responsibility of both the companies, and Coleman Legal will make claims on your behalf against each of them.
How do I know if I have suffered a psychological injury?
Each case is unique and the effect of psychological injuries such as PTSD will vary with each individual. Many content moderators' symptoms are not immediately recognised, and they may only become evident over a period of time.
It is important that psychological illness/injury is correctly diagnosed by a qualified professional. Your GP will be able to give you a preliminary diagnosis, and arrange for evaluation by a specialist to help you begin on your journey to recovery.
What obligations does my employer have regarding psychological injuries?
The Diagnostic and Statistical Manual of Mental Disorders (DSM–5), published by the American Psychiatric Association, recognises PTSD as a result of exposure to graphic content.
Where it is reasonably foreseeable that an employee is working under conditions  that could cause mental health issues, your employer owes you a duty to take reasonable steps to address these issues.
Once a duty of care is established, if you as an employee have suffered a psychological injury as a result of your employer's negligence, you can claim compensation for the harm suffered.
I'm still working for my employer. Does this affect my claim?
Irish Law safeguards the rights of employees to make a claim for compensation against your current employer where they have failed in their duty of care towards you. It is illegal for your employer to fire you, deny you promotion, or otherwise discriminate against you because you are making a claim against them.
I am not based in Ireland, and my employer is not an Irish company. How can I claim?
You may take your case through the Irish Courts if you are, or were:
an employee of, OR a contractor for, a multi-national company with headquarters in Ireland, including the European HQ of an American company,  AND
working as a content moderator in an EU country.
Will the current Covid-19 pandemic prevent me from taking my claim or cause delays to my claim?
Covid-19 has affected everybody. We are fully operational during Covid-19 crisis, and the courts are still operating. We continue to receive instructions from moderators throughout Europe. Our services are being conducted over the phone and with video calling to ensure the safety of our clients while providing minimal disruption to our services.
What About My NDA?
Many big technology companies in Ireland use non-disclosure agreements to intimidate staff and discourage them from vindicating their rights. Ireland has very strong whistleblower protections and employee rights, and enforcing these NDAs would be very difficult under Irish law, particularly as your right to access justice through the courts takes precedence over any claimed right to secrecy.
At Coleman Legal, we understand the negative impact that psychological trauma can have on your life, hence we are dedicated to pursuing the best possible results for our clients. Our dedicated team are highly experienced in the Content Moderator arena spearheading the first case of this nature with Chris Gray in Ireland who was diagnosed with Post-Traumatic Stress Disorder (PTSD) working as a content moderator in Facebook. We are also representing a group of content moderators living in Ireland and from abroad. 
If you have suffered damages and/or risks related to being a content moderator, or have any concerns that you would like us to address, please contact our team at Coleman Legal. With 24/7 client support, a compassionate litigation service, our highly experienced solicitors are ready to advise. 
CONTACT OUR PERSONAL INJURY TEAM TODAY
Please contact Diane Treanor from our Personal Injury Team at Coleman Legal in confidence by email: info@colemanlegal.ie or by telephone for free on 1800-844104 to see how we can help you.
Diane Treanor
Senior Solicitor
(Medical Negligence Team)
 DTreanor@colemanlegal.ie
01-5313800
Location
84 Talbot Street, Dublin 1
D01 YX60
Contact us
Free Phone: (1800) 844 104
Email: info@colemanlegal.ie
Ask An experienced Solicitor