Social Media Moderators Court Case
All employers have a duty of care to employees to provide a safe place of work, a safe system of work and to prevent harm. Recently, a large group of Moderators have come together to explore their rights and the obligations that others have to them.
A Court action on behalf of Moderators is proposed to be taken in Dublin Ireland, which is the European headquarters for many companies who utilise the services of Moderators. Content Moderators may be employed directly by tech companies or by third party outsourced contractors.
How can we help?
To discuss your case in detail, contact us today or request a callback from our experienced team.
Who do you take a Legal Case for Psychological Trauma against?
In most cases, Facebook moderators are hired by a third-party company that has a partnership with Facebook to put in place the moderation services. If this is so then any compensation case could be filed against all organisations involved. During the subsequent legal case, it will be decided which entity did not have acceptable working conditions for the moderators to deal with.
Your legal representative solicitor will guide you in relation to the best course of action for you to take against these groups.
Coleman Legal personal injury claim solicitors
We work with our clients to achieve the best possible outcome for your case and have helped thousands of individuals get compensation for their injuries and illnesses.
To speak with one of our experienced personal injury claim team, call (Free Phone) 1800 844 104 or complete our online enquiry form.
Our Client Testimonials
We're extremely proud of what we've accomplished and what our customers have to say about us.
Compensation Claim Process
Submitting compensation claims for Facebook Moderation psychological trauma
You must speak with a solicitor familiar with claims like this before you begin making a claim for psychological trauma caused by your working conditions and targets.
A qualified solicitor will advise you of the correct course of action to adapt for your compensation claim.
You should get in touch with a qualified legal expert as soon as you can so you begin your compensation claim for you.
Currently, there are a number of Facebook moderators proceeding with similar actions in different jurisdictions that may be easier to join together.
To speak with one of our team of experienced personal injury team, call (Free Phone) 1800 844 104 or complete our online enquiry form.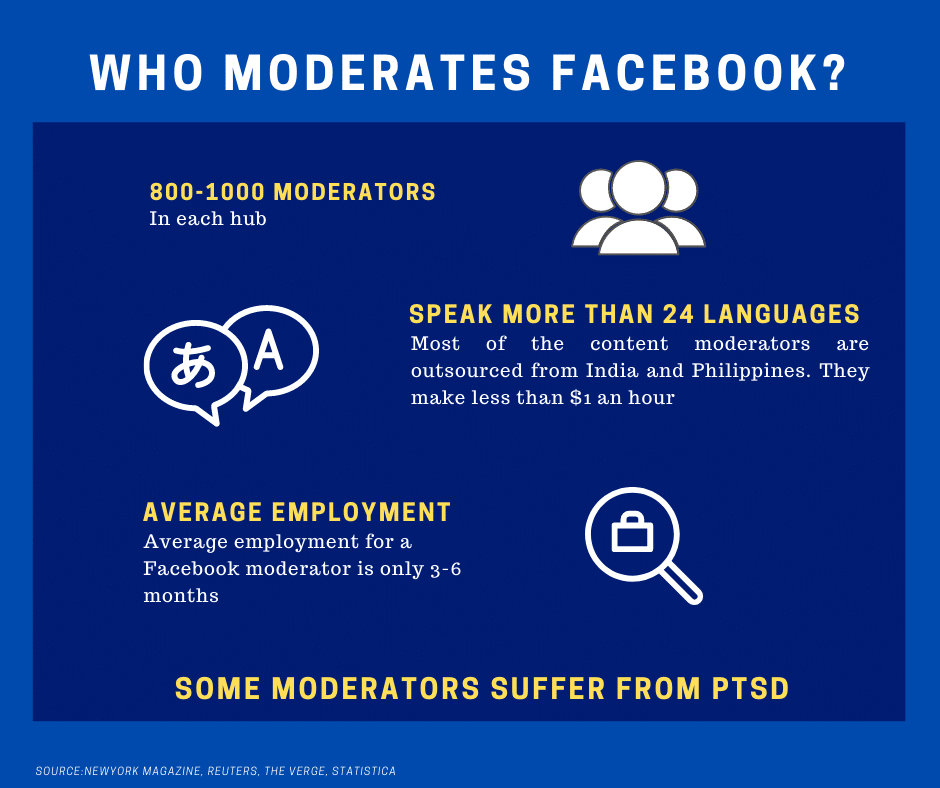 Frequently Asked Questions
Frequently Asked Questions
If I don't have any resources to fund my case, how can I take a claim?
The team at Coleman Legal is fully supportive in every way of your case. We successfully represent many hundreds of clients, moderators, and others, all of whom have been able to bring a case without the worry and stress of financing it. We can help you.
We are aware that a similar case in the US was recently settled with a positive outcome for the content moderators. If your case is successful in court or settled out of court, you will then have to pay reasonable legal fees.
It is important to note that no solicitor's fee may be calculated as a percentage of any award or settlement you receive. Also, if a litigant loses their case they may be liable for the other side's legal defence costs, including medical fees or other expert reports, etc. We will advise you in advance should this become a likelihood.
My employer warned me in advance that I might have to review disturbing content, and that it might lead to PTSD. Can I still make a claim?
The Health, Safety and Welfare Act at Work 2005 requires the employer to provide adequate training and support to ensure well-being for the employee, regardless of whether they were warned about the nature of their jobs or not.
Asking you to sign a waiver does not relieve an employer of their obligations and responsibility. If you have suffered psychological trauma as a content moderator and have concerns regarding NDAs, other contracts and acceptance/settling from being partially warned, it is advisable to speak to a solicitor.
What About My NDA?
Many big technology companies in Ireland use non-disclosure agreements to intimidate staff and discourage them from vindicating their rights. Ireland has very strong whistleblower protections and employee rights, and enforcing these NDAs would be very difficult under Irish law, particularly as your right to access justice through the courts takes precedence over any claimed right to secrecy.
Do I have the same rights and safeguards being a third-party employee?
An employer is legally required to provide yo with a safe place of work and a safe system of work. Historically agency workers were treated in an entirely different manner to those workers who were hired directly into the workforce. Whilst the employment agency is the employer, the company is also respomsoble for breaches of the Safety, Health and Welfare at Work Act, 2005.
Your right to being protected under Health and Safety Regulations are the responsibility of both the company company where you are doing the temporary work and the agency.
I have left my job, and didn't realise at the time that the content I reviewed had caused psychological injuries. Can I take a case against my employer now?
After you become aware of the harm you have suffered, you must make a claim for compensation within two years.
It is important to seek legal advice as soon as possible, to ensure your claim doesn't pass this statute of limitations.
How do I know if I have suffered a psychological injury?
Each case is unique and the effect of psychological injuries such as PTSD will vary with each individual. Many content moderators' symptoms are not immediately recognised, and they may only become evident over a period of time.
It is important that psychological illness/injury is correctly diagnosed by a qualified professional. Your GP will be able to give you a preliminary diagnosis, and arrange for evaluation by a specialist to help you begin on your journey to recovery.
What obligations does my employer have regarding psychological injuries?
The Diagnostic and Statistical Manual of Mental Disorders (DSM–5), published by the American Psychiatric Association, recognises PTSD as a result of exposure to graphic content.
Where it is reasonably foreseeable that an employee is working under conditions  that could cause mental health issues, your employer owes you a duty to take reasonable steps to address these issues.
Once a duty of care is established, if you as an employee have suffered a psychological injury as a result of your employer's negligence, you can claim compensation for the harm suffered.
I'm still working for my employer. Does this affect my claim?
Irish Law safeguards the rights of employees to make a claim for compensation against your current employer where they have failed in their duty of care towards you. It is illegal for your employer to fire you, deny you promotion, or otherwise discriminate against you because you are making a claim against them.
I am not based in Ireland, and my employer is not an Irish company. How can I claim?
You may take your case through the Irish Courts if you are, or were:
an employee of, OR a contractor for, a multi-national company with headquarters in Ireland, including the European HQ of an American company,  AND
working as a content moderator in an EU country.
Will the current Covid-19 pandemic prevent me from taking my claim or cause delays to my claim?
Covid-19 has affected everybody. We are fully operational during Covid-19 crisis, and the courts are still operating. We continue to receive instructions from moderators throughout Europe. Our services are being conducted over the phone and with video calling to ensure the safety of our clients while providing minimal disruption to our services.
I work as a contractor, employed by an agency, not by the company whose content I was moderating. Can I still make a claim?
Whilst the employment agency is the employer, the company which controls your work and working environment  is also responsible for breaches of the Safety, Health and Welfare at Work Act, 2005.
Your rights under Health and Safety Regulations are the responsibility of both the companies, and Coleman Legal will make claims on your behalf against each of them.
As EU Citizens employed as content moderators throughout Europe by corporations with European headquarters that are based in Ireland, moderators can access justice through the Irish Courts.
If you are unsure whether you can bring your claim in Ireland, contact our dedicated team and we can discuss your particular circumstances with you.
Our dedicated team has a collective experience of over 100 years in multi-party action and we are ready to advise and assist you with your claim. If you are a Content Moderator suffering from mental or psychological trauma caused by your job, Coleman Legal urges you to speak to an experienced solicitor. Confidentiality will be given utmost priority.
To speak with one of our team of experienced personal injury team, call (Free Phone) 1800 844 104 or complete our online enquiry form.
*In contentious business, a solicitor may not calculate fees or other charges as a percentage or proportion of any award or settlement. This statement is made in compliance with RE.8 of SI 518 of 2002.