Farming Accidents Ireland
If you or someone you know have been the victim of a farming accident or fatality during work on a farm, you may have a claim for Personal Injury.  Our team of experienced Work Injury solicitors will be able to advise you on the best course of action available to you, so contact us today on 01-5313800 or FREEPhone 1800 844104 and we would be happy to discuss your case.
Farming Accidents in Ireland are unfortunately common, and the level of serious injury and/or death due to a farming accident in Ireland is high.
The HSE has compiled and released their provisional annual report regarding fatal accidents in the workplace, highlighting which industries are the most dangerous for its workers.
Figures in a provisional annual report compiled by the HSE shows that between April 2014 and March 2015, 142 employees died in accidents at work. This is an increase from the previous year's figure of 136-an all-time low. These numbers represent a rate of 0.46 fatalities per 100,000 workers. This is one of the lowest fatality rates among workers in many of the leading industrial nations.
FARMING ACCIDENT FATALITIES HIGHEST RATE FOR WORK RELATED DEATHS IN IRELAND
Agriculture, recycling and construction all were among the most dangerous jobs for their workers Agriculture had the highest rate of 9.12 fatalities per 100,000 workers, and the number of fatal accidents last year increased from 27 to 33. The recycling industry had a rate of 4.31 fatalities per 100,000, with a total of five deaths last year. The latest figures show that in the construction industry, the total number of deaths fell from 44 to 35 between 2013/2014 and 2014/2015.
LEGISLATION AND ENFORCEMENT
(Source: HSA.ie)
Farming Fatalities for Ten Yr Period 2005 -2014 by Age (Source: HSA.ie)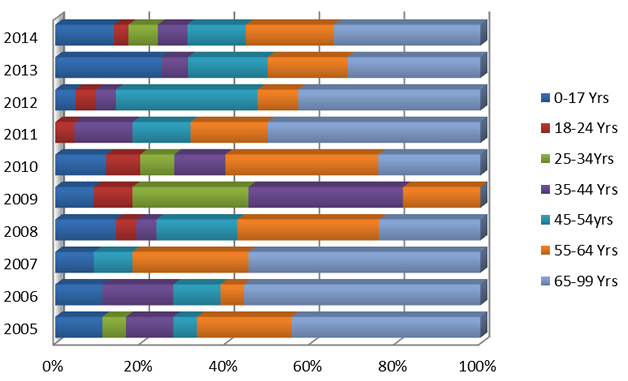 Fall Collapse Fatalities and Serious Injury
One of the the major cause of accidents involving farm buildings is falls from height.
Fatal and serious accidents often happen when roofs are being quickly repaired on tall outbuildings, silos and other farm buildings. A total of 19% of all deaths in the agricultural sector are associated with falls or collapses. These deaths are particularly linked to fragile roof sheeting and skylights.
Specific Areas of Danger on Farms that cause death or serious injury as a result of Fall Collapse:
Farmyards and Farm Buildings
Building Design
Bale-Stacking at Heights
Roof Report Work
Accessing Heights
In this video, agricultural contractor Stanley Scanlan remembers how he was seriously injured when he fell just 9 feet through a skylight.
CONTACT OUR PERSONAL INJURY TEAM TODAY
If you have experienced an accident or accidents in the workplace and you have questions surrounding the incident please feel free to call any one of our personal injury solicitors at Coleman Legal Partners to find out if you have a potential action against your employer.
If you have suffered as the result of an accident at work and would like to discuss your situation, please contact us by email or FREEphone us on 1800-844104 to see how we can help you.
---
*In contentious business, a solicitor may not calculate fees or other charges as a percentage or proportion of any award or settlement. This statement is made in compliance with RE.8 of SI 518 of 2002.
RELEVANT NEWS:
http://www.independent.ie/irish-news/news/shock-as-man-19-crushed-to-death-in-farmyard-31448300.html
http://www.independent.ie/irish-news/news/tragedy-as-toddler-2-dies-following-freak-farm-accident-31247679.html
http://www.thejournal.ie/farming-accidents-1916055-Feb2015/
http://www.thejournal.ie/farmers-urged-to-be-careful-in-2015-1860789-Jan2015/
http://www.thejournal.ie/farming-accident-cork-1860089-Jan2015/
http://www.thejournal.ie/roscommon-farmer-killed-by-falling-trailer-98839-Mar2011/
http://www.thejournal.ie/farm-deaths-increase-in-2010-64467-Jan2011/